DISASTER RELIEF STORAGE CONTAINERS - HURRICANE, FLOOD AND NATURAL DISASTER RECOVERY
The nation is no stranger to the trail of devastation left in the wake of natural disasters. Hurricanes Michael and Florence has left a deadly trail of devastation across the nation. Numerous businesses and communities have suffered loss and damage in states such as Florida, North Carolina, South Carolina and Virginia. At Mobile Modular Portable Storage, we identify with those who have been affected and are using September's Natural Preparedness Month to promote placing proper safety measures, plans and safety fallbacks in place to ensure that you can start rebuilding your lives as quickly as possible if any damage were to happen to your area. If those plans include the need for disaster relief storage containers, we're here to help.
If your business needs secure storage, we are ready to deliver portable storage containers to those hurricane-affected areas by using our in-house fleet of trucks and trailers.
Government agencies, construction companies, schools, industries, and other enterprises can buy or rent our commercial cargo containers, available in various sizes, for safe disaster relief storage of valuable and dry items.
Don't let natural disasters overwhelm your business storage needs.
Contact us today.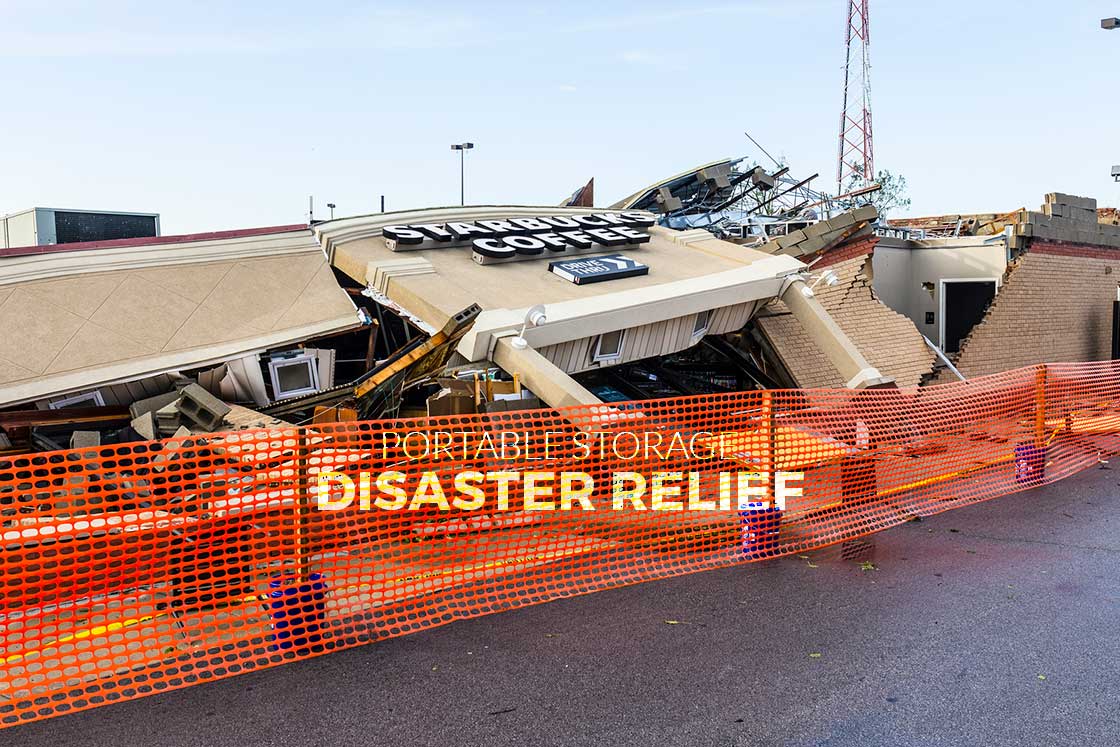 TO ALL OUR CUSTOMERS AFFECTED BY HURRICANE BARRY
Mobile Modular Portable Storage is ready to assist our customers affected by Hurricane Barry and any other disasters in the future. Your safety is our prime concern.
If you have been affected by winds, heavy rains, and flooding, please follow these important guidelines for your leased ground-level office or freight container from Mobile Modular Portable Storage.
We ask that you take some time to be sure that you have checked the following areas of potential concern.
Your Safety Comes First.

Remember to always be careful if you have to enter or inspect cargo container units after natural disasters. If there is serious structural damage, do not enter the unit. Watch out for debris and downed power lines. Avoid walking through flood waters to inspect damage as they may be fast moving or electrically charged. Use flashlights in the dark.

Documentation is Helpful.

If you identify any concerns, document the damage thoroughly. Keep a record of damaged property and prepare a list. If you have any form of damage to the leased unit or container, contact your insurance company to begin the claims process.

Verify Safe Electrical & Gas Connection.

Verify that the electrical connection is intact and functioning. Inspect for any signs of damage. In the event that the power does not get been restored to the area, power off the panel box to eliminate risk at the time of power restoration. At any sign of threat, contact 911. If the cargo container unit is connected to a gas line, have an electrician check the system before turning power on again.

Flipped or Tossed Containers.

If a container unit flips over or loses its footing, do not attempt to right it. Do not allow anyone to move in or about the unit. If possible, line the area with caution tape or red flags and Contact us immediately.

Flood Damaged Containers.

Flood damage can creates an environment conducive to mold and mildew. Notify us if the freight container unit is under water for any period of time or has sustained water intrusion due to window or roof damage.

Turn off main power if the wiring is wet or moldy or has been exposed to flooring. Have an electrician check the system before turning power on again.
Open the unit to fresh air when humidity outside is lower than inside.
Turn on fans and dehumidifiers in the unit.
Remove all wet items from the unit (carpet, furniture, etc.). Be sure to wear safety gloves and if mold is evident, wear a protective mask.
Contact our service department to coordinate an inspection.
When it comes to flooring, mold and mildew concerns, we want to be sure you are aware that these issues may come to light over the coming days and weeks after a flood or hurricane occurs. Do not contact a mold remediation company for your leased unit, call us first so that we can coordinate efforts.
Resource available to mitigate storm damage and flooding:
PORTABLE STORAGE CONTAINERS FOR DISASTER RELIEF
When disaster strikes, quick relief that provides resources that matter is of paramount importance. While it must be ensured that supplies arrive safely and on time, one of the basic needs that takes time to reconstruct is emergency storage buildings and facilities.
REBUILD
Rebuilding after a natural calamity takes urgency, focus, energy, and resources. But while rehabilitation happens, urgent temporary relief is a dire need for those who have been affected by large-scale catastrophes like floods, earthquakes, tornados, or hurricanes. To meet such time-bound necessities, Mobile Modular Portable Storage offers various kinds of disaster relief storage containers and structures with prompt delivery.
Our range of shipping containers can be used as portable emergency containers, temporary emergency structures, emergency food storage containers (for nonperishables only), and storm protection structures for storage.
With emergency containers for disasters from Mobile Modular Portable Storage, you can look forward to:
Quick delivery and installation of emergency portable container units.
Fire resistant, wind resistant, and water resistant cargo container units to provide security and protection in bad weather.
Anytime, anywhere service with our trusted in-house fleet of trucks and trailers.
Freight container storage rental with a 30-day billing cycle.
We are committed to doing everything in our power to meet your needs in times of crisis and emergency. Contact our team for additional information or request a quote today.