20-Foot Office Containers
Each 20-foot office container provides 160 square feet of space, or roughly the size of a car garage. Thanks to its versatility and optimal size for a range of applications, this is one of the most popular sizes among business owners.
You can use this container space as a mobile office, an onsite meeting room, and as a secure workspace.
Corrugated steel construction provides protection against theft and harsh weather, and a high-security locking mechanism keeps your valuables safe. These ISO-grade, OSHA-compliant 20-foot container offices offer a safe site for your crew.
Container Dimensions
External dimensions:
20' L x 8' W x 8' 6" H
Internal dimensions:
18' 6" L x 7' 4" W x 7' 6" H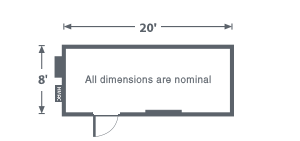 20-Foot Shipping Container Office Features
Marine plywood or timber floor planks
Security bars on windows and doors
R-11 insulated walls and ceiling
HVAC system
Optional vinyl composite tile (VCT) flooring
Bottom corner castings
Corrugated steel construction
125 AMP panel box
Exterior hard-wired light
External GFCI receptacle(s)
Forklift pockets for easy mobility
Ramps to access the cargo door
Junction box for media and data
Plan tables (6' 8" W x 3' D x 3' 1" H)
Mini blinds on windows
Durable, high-security HASP lock or shackle puck lock with maximum strength
Pipe racks with steel support arms and shelving brackets for organized storage
Depending on your location, you can choose an optional damage waiver that covers damage due to fire, windstorms and tornadoes, floods, and certain other natural disasters and accidents.
Speak to us for customization and damage protection options.
Container Specifications
Tare weight: 5,500 pounds
Max payload: 47,410 pounds
Max weight: 52,910 pounds
Read more
Reviews
Common Applications of 20-Foot Container Offices
You can use a 20-foot shipping container for construction sites, educational institutions, medical facilities, emergency rescue, and rehabilitation sites. The 20-foot size is ideal for use as:
Office space
Conference rooms
Recreation rooms
Retail space
Short-term storage of valuable inventory, supplies, and record boxes
Mobile medical triage, quarantine, or testing sites
Store medical supplies
If you need to store expensive equipment or surplus inventory in the same office unit, check out our 20-foot office and storage combo containers.
Why Choose Mobile Modular Portable Storage?
Quick delivery time: We command our own fleet of trucks and trailers, so we don't depend on external suppliers. Our skilled drivers strive to deliver your container office safely no matter the road conditions, whether tight corners, gravel, or inclines. It's our policy to get your quote within one business hour and deliver standard containers on your scheduled day.
Budget-friendly: We offer a 30-day rental cycle, as compared to the industry-standard 28-day plan.
Comprehensive options: Custom build your container with a wide range of features, such as HVAC, electrical supplies, furniture, shelves, lighting, insulation, and more.
In-house maintenance and service: We service all used containers in-house for optimal quality control, so you can get the best box for your needs and budget.
Exceptional customer service: With more than 10 years of industry experience, we know how to keep your interests first. No matter how big your business, you'll get a dedicated project manager for the entire process, starting from your first call.
We'll help eliminate all the hassles of finding the right shipping container, so you can focus on what's most important: growing your business.
20-Foot Shipping Container Offices FAQs
Which size should you choose?
The 10-foot office container is ideal for one person with room to seat up to two more visitors. A 20-foot mobile office container accommodates two people comfortably plus furniture, or one person with an optional secure storage unit for valuables.
What is the price of a 20-foot office container?
A new 20-foot container office costs approximately $17,000. But the price of the container depends on its condition, optional features, or any seasonal special offers. Call us to get a custom quote.
What is the process to transport the container?
A driver from our company will deliver your unit by truck or trailer to your location. A crane may be used to position the container or it can be simply rolled off the truck. You should receive a confirmation call from our team one to two days prior to the delivery.
Rent, Lease, or Purchase Office Containers
Contact us to get 20-foot office containers for rent or sale at dozens of locations across the United States.
Call us at 866.456.7600 or fill out the contact form and let us help you find the right solution.