40' Storage Container Offices for Sale or Rent
Dimensions
Exterior dimensions:
40' 0" L x 8' 0" W x 8' 6" H
Interior dimensions:
38' 4" L x 7' 4" W x 7' 6" H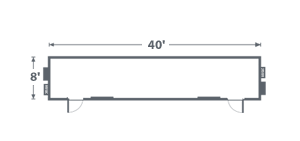 Common Usage
Office Space, Temporary Retail Space, Cooling Stations
40' Office Container Features:
R-11 insulated walls and ceiling
Units supplied with air conditioning and heating
Durable flooring
125 AMP panel box
Entrance light
Security bar(s) on window(s) and door(s)
External GFCI receptacle(s)
Forklift pockets to facilitate movement
Phone and data access
Read more
Reviews
RENT, LEASE OR PURCHASE
Stop worrying about finding affordable office space at temporary events or new project sites.
Rent or buy 320 square foot portable office containers, designed to handle larger projects that need secure office space, especially on short notice.
Use our 40 ft. office containers as a meeting space, a break area for your crew, or as a workspace for blueprints and site drawings. Get ground level office space with HVACs at your job site in as little as one business day.
Feel extra protected with our ISO-grade 40-foot steel containers, as they come equipped with security bars on windows and doors. We offer lock boxes and 6' or 8' roll-up doors for office containers for an additional cost, and also have 40 foot office and storage combo containers when you need the best of both.
At Mobile Modular Portable Storage, we help our customers by discussing all the specs of the job right at the outset to arrive at the perfect pricing. And unlike the usual 28-day billing cycle, we bill using a 30-day billing cycle.
The benefits don't end there. We command our own fleet of trucks and trailers. This means our customers can expect delivery on their timelines while placing orders! If you need to resume business in disaster-affected areas and need temporary office space after hurricanes or flooding, get in touch with us at 866-459-7600.
If you are looking for a new or used 40' portable office storage and shipping containers for rent or sale, contact us or request a quote today.