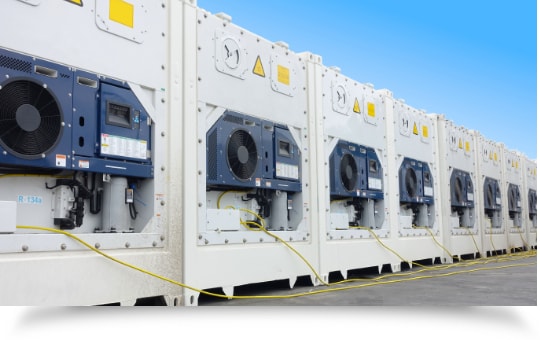 Refrigerated Container Rental
Look to refrigerated containers for your upcoming cargo needs. Each unit comes complete with a stainless-steel interior to maintain set temperatures and serve multiple industrial applications. Our refrigerated containers for rent are available for short or long-term periods.
With different types and sizes of portable cold storage containers to choose from, it is important to do your research before investing.
Mobile Modular Portable Storage has experience working with various businesses to provide efficient cold storage solutions specific to their needs.
Contact us for spacious, quality refrigerated mobile storage for your temperature-sensitive items today.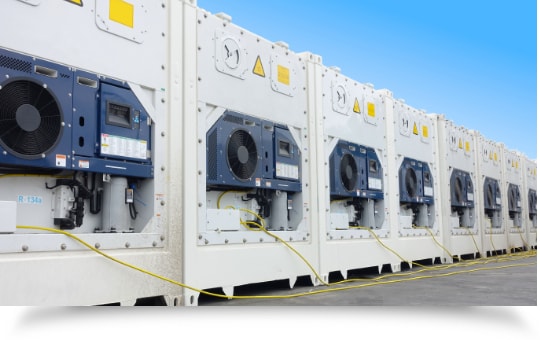 Features of Reefer Container Units
A Refrigerated shipping container (also known as a Reefer Container) is available in multiple sizes. Choose one that best suits your transportation and storage requirements.
Create partitions with varying temperatures to store chilled and frozen goods in the same cold storage container.
Easy-to-operate emergency exits can help during unforeseen emergencies.
Cargo doors in the refrigerated storage container are easy to use and make the unit entirely accessible.
Remote temperature monitoring allows you to manage temperature remotely. Store goods at their prescribed temperature and prevent premature contamination, ripening, and spoilage.
Blast-freezer options available to reach temperatures of -70°F or colder.
Stainless-steel sheeting to protect the exterior of the container from extreme conditions.
Customizable electricity and plumbing options to suit specific needs.
Refrigerated Shipping Containers for Rent
Cold storage container rentals are a great way to satisfy your temporary needs. Customers can rent an integral refrigeration unit for a few days, a month, or up to a few years. The simplicity of our refrigerated container leasing process sets our cost-effective rental containers apart from other companies.
Renting is a great option so long as you have no plans to customize or modify the unit. Ultimately, the decision depends on your purpose, timeline, and available budget.
Request a Quote Today
Required Field*
Required Field*
Applications of Refrigerated Shipping Containers
Hotels and Restaurants:
Add refrigerated mobile storage to your site with minimal interruption to your business.
Pharmaceutical:
Store critical vaccines, medicines, and other perishable goods within a controlled environment.
Defense:
Transport food and medicines to war-torn regions.
Food Banks:
Store temperature-sensitive donations.
Disaster Relief:
Store medicines and vaccines, food items, fruits and vegetables, during disaster management.
Events:
Store delicate equipment and props that need to be kept safe from nature's elements, or keep flowers fresh for a longer duration.
FAQ
---
What are the types of refrigerated containers?
The various types of cold storage containers, based on temperature range (up to -20 °F, -40 °F, and -76 °F) and size include:
20' Refrigerated Container -20°F to 70°F
40' Refrigerated Container -40°F to 70°F
20' Blast Freezer -40°F to 70°F
40' Blast freezer -40°F to 70°F
40' Blast freezer -76°F to -4°F
40' Deep freezer with generator -76°F to 30°F
40' Deep freezer -76°F to 30°F
---
What are the prerequisites for installing a refrigerated container?
The prerequisites involved in installing a refrigerated container include:
Three-phase electrical system.
Supply voltage of 440/460 volts.
Power supply. For power supplies that use 208/230-volt, circuit breakers should have a minimum of 50 amps.
Circuit breakers with a minimum of 30 amps. Circuit breakers and surge protectors should remain at the electrical source.
Do not arc weld any container component to any metal or conductive element on which you have positioned the container.
---
What are some maintenance tips for refrigerated containers?
Here are some tips for maintaining reefer containers:
Regular inspections and servicing
Use it for the specified purpose
Regular cleaning of the container
Maintenance only through qualified technicians
Structural repairs only through IICL-qualified service providers
Defrost the reefer unit and the ice on the evaporator coil by setting a defrost cycle at a nine-hour interval
---
How cold does a refrigerated container get?
Depending on the range, a refrigerated mobile storage container can achieve temperatures of -76 °F.
---
How much does a 40-foot refrigerated container cost?
The cost of 40-ft refrigerated containers for rent and purchase differs significantly depending on whether it is new or used. The cost varies with its condition. Single-trip containers cost less than a new container and are usually in good physical shape.
Why Choose us?
Partner with a team of representatives and drivers who are experienced working with multiple industries. Our experts can discuss specific design solutions and pricing. We own all our trucks and trailers, thus ensuring total control of container delivery on your schedule.
With Mobile Modular Portable Storage, you can rent a portable storage container on a 30-day billing cycle rather than the usual 28-day cycle. That's two extra days for no additional rent.
Mobile containers can be delivered across the US in all our locations on your scheduled day after receiving the order. Portable storage containers are legally compliant with the rules of each city and municipality.
Tell us about your business storage requirement today - request a quote or call us at 800-846-5180.
On-Time
Quick Turnaround
Dedicated Sales Specialist
Competitive Pricing
Accessories
Variety of Products
Quality Products