10ft. Shipping Containers
10' STORAGE CONTAINER
is rated out of
5
by
10
.
Dimensions
Exterior dimensions:
10' 0" L x 8' 0" W x 8' 6" H
Interior dimensions:
9' 4" L x 7' 8" W x 7' 10" H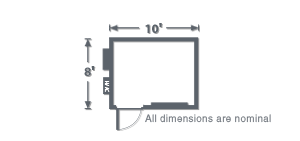 10' Storage Container Features:
Lockable door handles
Increased vents to reduce condensation
Uniformly painted container fleet in beige to blend with surroundings
Standard lock box provides additional protection
Available with an additional high-security lock box option
Forklift pockets provided to facilitate movement and stacking
Industry-grade, corrosion-resistant steel
Wind and water-resistant
Shelf or pipe rack options for organized storage
Read more
Rated

2

out of

5
by
Why do you need this?
from
Rental
Rented multiple times in the past and I make sure the container is totally cleaned out prior to pick up but you guys still hit the company I work for for a $50.00 clean out fee.
Date published: 2018-09-23
Rated

4

out of

5
by
cliff
from
Good price, fresh paint, looks new
Have used the containers for 2-3 months, no problems thus far.
Date published: 2018-09-24
Rated

5

out of

5
by
Kieffer
from
Great service excellent value
Great service excellent value with mobile modular portable storage. I rented a storage unit from them and was delivered to my property. Used it for over a year and from first delivery and billing and periodic conversations with them, they were fantastic across-the-board. Can't think of a better value than getting one of these containers on your property if you're doing a remodel. They just removed mine after a full year of use. I would definitely go back to them for any future needs.
Date published: 2019-02-01
Rated

5

out of

5
by
Beaver Concrete
from
Great Convenient Service
We use Mobile Modular for our construction business and their service is top notch. They always get our containers out to the job sites as soon as possible and i've never had any problems.
Date published: 2019-04-02
Rated

5

out of

5
by
Liz B
from
REBECA ROCKS!!
Rebeca Reyna has gone ABOVE AND BEYOND for us. We were using Acton for a long time and then they were bought out by William Scotsman. They are a HORRIBLE company to work with. We have 50 active jobs and 20+ upcoming jobs. There are other companies that want our business and very competitive in pricing, but Rebeca has been on it with her customer service and response with a QUICKNESS. I can't say enough good things about her. Thank you Rebeca from the Longhorn Family!
Date published: 2018-09-20
Rated

5

out of

5
by
First Choice
from
Excellent Service!
Great unit for the site. Even greater customer service!
Date published: 2018-09-24
Rated

5

out of

5
by
Luis & Luigi
from
Great usage
Great usage perfect size and took total advantage.
Date published: 2018-09-20
Rated

5

out of

5
by
Shelbie
from
Awesome Staff!
I work for a company that we work off of disasters and we rarely know ahead of time when we will be needing a pod. When I call and speak to Tim him and his staff go above and beyond to accommodate my requests and they are always quick at getting the pods to my job sites. I would honestly say there is no room for improvement Tim and his team are the best!
Date published: 2019-01-17
RENT, LEASE OR PURCHASE
Is a 10-foot container not suitable for you due to space constraints? Our 10' storage containers for rent or sale come in handy when you have to combine durability with storage space limitations on site. Designed to fit into a parking space or driveway effortlessly, these 10' shipping containers can be delivered and positioned quickly at construction sites, schools, convenience stores, malls, hospitals, manufacturing plants, and other job sites. These are ideal for tight spaces that call for more flexibility.
With 80 square feet of storage space, our steel 8'x10' portable storage container provides secure and reliable storage for small sites. Most suitable for inventory, small tools and other equipment, our 10' storage containers for rent and sale can stock your gear and inventory while fitting accessibly into smaller spaces.
Common Applications of 10' Portable Storage Containers
Construction – on-site storage for valuable tools and materials
Education – storage for furniture and school supplies during remodeling
Healthcare – storage for medical records and maintenance equipment
Government agencies – storage for government documents and other highly-sensitive material
Agriculture – storage for farm equipment, tools and machinery
Mobile Modular Portable Storage has earned the trust of customers from major industries like commercial, construction, retail, schools and even theme parks. At the outset, we discuss the job with you to arrive at the perfect pricing for our portable storage containers. And unlike the usual 28-day billing cycle, we use a 30-day billing cycle.
The benefits don't end there. Mobile Modular Portable Storage excels in delivery since we command our own fleet of trucks and trailers. This means our customers can expect delivery on their timelines when they place that order!
Interested in buying or renting new or used 10ft. storage containers? Contact us to request pricing today.