10ft. Small Shipping Containers for Sale or Rent
Dimensions
Exterior dimensions:
10' 0" L x 8' 0" W x 8' 6" H
Interior dimensions:
9' 4" L x 7' 8" W x 7' 10" H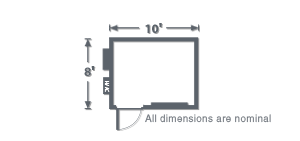 Common Usage
Excess Material and Equipment Storage where space is limited
Accessories & Upgrade Options
10' Storage Container Features:
Lockable door handles
Increased vents to reduce condensation
Uniformly painted container fleet in beige to blend with surroundings
Standard lock box provides additional protection
Available high-security lock option on all units
Forklift pockets provided to facilitate movement and stacking
Industry-grade, corrosion-resistant steel
Wind and water-resistant
Shelf or pipe rack options for organized storage
Optional upgrade to climate-controlled insulated containers
Read more
Reviews
RENT, LEASE OR PURCHASE
Is a 10-foot container not suitable for you due to space constraints? Our 10' storage containers for rent or sale come in handy when you have to combine durability with storage space limitations on site. Designed to fit into a parking space or driveway effortlessly, these 10' shipping containers can be delivered and positioned quickly at construction sites, schools, convenience stores, malls, hospitals, manufacturing plants, and other job sites. These are ideal for tight spaces that call for more flexibility.
With 80 square feet of storage space, our steel 8'x10' portable storage container provides secure and reliable storage for small sites. Most suitable for inventory, small tools and other equipment, our 10' storage containers for rent and sale can stock your gear and inventory while fitting accessibly into smaller spaces.
Common Applications of 10' Portable Storage Containers
Construction – on-site storage for valuable tools and materials
Education – storage for furniture and school supplies during remodeling
Healthcare – storage for medical records and maintenance equipment
Government agencies – storage for government documents and other highly-sensitive material
Agriculture – storage for farm equipment, tools and machinery
Mobile Modular Portable Storage has earned the trust of customers from major industries like commercial, construction, retail, schools and even theme parks. At the outset, we discuss the job with you to arrive at the perfect pricing for our portable storage containers. And unlike the usual 28-day billing cycle, we use a 30-day billing cycle.
The benefits don't end there. Mobile Modular Portable Storage excels in delivery since we command our own fleet of trucks and trailers. This means our customers can expect delivery on their timelines when they place that order!
Interested in buying or renting new or used 10ft. storage containers? Contact us to request pricing today.