10-Foot Shipping Container for Sale or Rent
10-Foot Shipping Container Dimensions
Exterior dimensions:
10' L x 8' W x 8' 6" H
Interior dimensions:
9' 4" L x 7' 8" W x 7' 10" H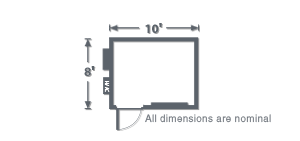 Accessories & Upgrade Options
10-Foot Shipping Container Features
Lockable door handles
Vents to reduce condensation
Uniformly painted beige, containers easily integrate into surroundings
Standard lockbox provides additional protection
Optional high-security door lock option on all units
Entrance light
Phone and data access
Forklift pockets to facilitate movement and stacking
Industry-grade and corrosion-resistant steel construction
Wind and water-resistant
Shelf or pipe rack options
Optional upgrade for storage containers to climate-controlled insulated containers
10-Foot Shipping Container Specifications
Tare weight: 3,500 pounds
Maximum payload: 35,000 pounds
Maximum weight: 38,500 pounds
Capacity: 563 cf
1-1/8-inch thick marine plywood or timber plank flooring with 14-gauge corrugated steel panels
Read more
Reviews
Rent, Lease, or Purchase 10-Foot Containers
Rent or buy a 10-foot shipping container when you have limited space in an urban location, such as a parking space or driveway. We can deliver and install these 10-foot shipping containers at construction sites, schools, convenience stores, malls, hospitals, manufacturing plants, or any other various job sites.
Choose 10-foot containers when space is at a premium, and you need portability and security. With 80 square feet of storage space, a 10-foot shipping container is suitable for storing inventory, small tools, important documents, and other on-site equipment.
Applications for 10-Foot Shipping Containers
Use 10-foot cargo containers to store materials and equipment on sites with limited space. Our 10-foot containers are ideal for use as guard shacks, offices, and medical stations.
Other common uses across a range of industries include:
Construction: Store valuable gear, landscaping tools, and materials on-site
Education: Store janitorial equipment, furniture, and school supplies during remodeling
Healthcare: Store medical records and maintenance equipment
Government agencies: Store government documents and other highly sensitive materials
Agriculture: Store farm equipment, tools, and machinery
Warehouses: Use as dock-level storage units
Amusement parks: Use as ticket-distribution units
Telecom: Use as shelters for base transceiver station (BTS) units
Pipelines: Employ as plug-and-use remote terminal units (RTU) for monitoring
At Mobile Modular Portable Storage, we deliver shipping containers to and partner with customers from major industries, such as commercial, construction, retail, education, and theme parks. We help you arrive at the perfect price for containers.
We rent at a 30-day billing plan at no extra cost, unlike the usual 28-day billing cycle. Mobile Modular Portable Storage delivers the shipping containers in excellent condition and delivered on the scheduled day with our own fleet of trucks and trailers. This means you can expect delivery according to your timeline.
We serve multiple locations across the US. Speak to our dedicated support team for custom options and a free quote. Contact us at 866.456.7600.
10-Foot Shipping Container Frequently Asked Questions
How much does a used 10-foot shipping container cost?
You should be able to buy used 10-foot containers for less than $3,000, whereas a new 10-foot cargo container can cost anywhere between $3,000 to $5,000. Prices vary based on factors such as whether it's new or used, location, and age of the container. Note that used containers may come with minor dents and dings (never holes) that are reflective of age, weathering, and normal wear and tear. Visit our purchase page for used 10-foot storage containers for sale.
How do you move a 10-foot shipping container?
Containers can be moved using tilt-bed trucks, stackers, forklifts, or truck cranes. We deliver shipping containers using our in-house fleet of trucks. You can call us to have the container moved to another location.
What can you fit inside a 10-foot shipping container?
Our 10-foot shipping containers are an ideal size for storing tools, light machines, and important documents on-site.
What size do the 10-foot storage containers come in?
Typical 10-foot containers are 8feet 6 inches in height. A high cube container has a height of 9 feet 6inches. Both come in a standard length and width of 10 feet by 8 feet.
Once ordered, how soon will you deliver shipping containers?
We have our own fleet of trucks that gives us optimal control over delivery. Once our customers finalize the order, we typically deliver storage containers on the scheduled day.