---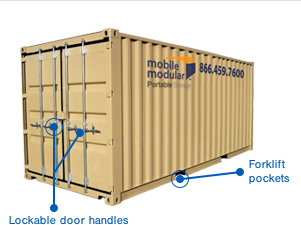 Dimensions
Exterior dimensions: 24' 0" L x 8' 0" W x 8' 6" H
Interior dimensions: 23' 5" L x 7' 8" W x 7' 10" H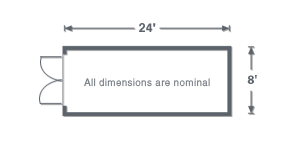 The 24 foot shipping container box is ideal for the larger job-site projects. You can ensure that your materials are safe with a Mobile Modular Portable Storage container. With 192 square feet of storage space, our containers are sturdy and reliable enough to handle your bigger projects.
We assist our customers by discussing all the specs of the job right at the outset to arrive at the right pricing. And unlike the usual 28-day billing cycle, we bill using a 30-day billing cycle.
The benefits don't end there. At Mobile Modular Portable Storage, we command our own fleet of trucks and trailers. This means, our customers can expect delivery on their timelines when they place their orders!
If you are looking for new or used 24 foot storage and shipping containers for rent or sale, contact us or request a quote today!
24' Shipping Container Features:
Lockable door handles
Increased vents to reduce condensation
Uniformly painted fleet in beige to blend with surroundings
Standard lock box provides additional protection
Available high-security lock box option on all units
Forklift pockets provided to facilitate movement and stacking
Request a Quote
Required*