24-Foot Shipping Containers for Sale or Rent
24-Foot Shipping Container Dimensions
Exterior dimensions:
24' L x 8' W x 8' 6" H
Interior dimensions:
23' 5" L x 7' 8" W x 7' 10" H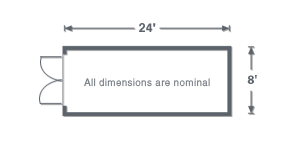 Accessories & Upgrade Options
24-Foot Shipping Container Features
Lockable door handles
Vents to reduce condensation
Uniformly painted beige, containers easily integrate into surroundings
Standard lock-box provides additional protection
High-security lock-box option is available on all units
Forklift pockets for easy movement and stacking
ISO-grade corrugated steel sides
Castings on eight (8) corners
Choose from the Following Upgrade Options
1-1/8-inch-thick marine plywood or timber plank wood floor
Optional pipe racks and shelving brackets: 2" x 10" x 8" three (3) rows
Plan tables
Entrance light
Phone and data access
Waiver to cover the container against damage from fire, windstorm, lightning, floods, earthquakes, and other potential accidents
Roll-up doors
Ask our experts for more shipping container upgrades, price points, and floor plans specific to your location.
24-Foot Shipping Container Specifications
Tare weight: 5,482 pounds
Maximum payload: 48,428 pounds
Maximum weight: 53,410 pounds
Capacity: 1,391' cubed
External length: 24'
External width: 8'
External height: 8' 6"
Internal length: 23' 5"
Internal width: 7' 8"
Internal height: 7' 10"
Read more
Reviews
Rent, Lease, or Purchase 24-Foot Shipping Containers
Rent, lease, or buy a 24-foot storage container when you need more storage space than a 20-foot container can accommodate. We deliver and install 24-foot storage containers at construction sites, manufacturing units, malls, and various other job sites that need large-capacity storage.
With 1,391 square feet of storage space, you can easily use the 24-foot shipping container for inventory and large tools. If you need to store temperature-sensitive goods, reach out today to learn more about our line of insulated refrigerated containers.
Applications for 24-Foot Shipping Containers
High-quality, 24-foot conex boxes are great to have on large construction or manufacturing sites where smaller storage containers are not enough.
Here are some of the most common industrial uses:
Farming and agriculture storage of farm equipment, tools, and expensive machinery
Industrial storage that seamlessly blends with existing facilities to store inventory, tools, and temperature-sensitive products
Retail storage for flexible on-demand storage of store inventory on short notice
Educational institutions use weather-proof storage containers for sensitive student records, sports equipment, maintenance tools, and more
Government and defense agencies can quickly store equipment during military, reconnaissance, and humanitarian operations
Healthcare uses include temporary first-aid units, patient admission checkpoints, and secure storage of medical records, tools, and equipment, such as beds, wheelchairs, and more
Automobile sector can store auto parts, detailing supplies, tools, tires, documents and more
At Mobile Modular Portable Storage, we serve customers from all major industries, and help them select the right product at the right price. You can check used shipping container options that are in great condition and available for sale. Check our website for seasonal promotions and offers.
The benefits don't end there. We command our own fleet of trucks and trailers, giving us maximum control over the delivery process. Once you finalize and place the order, your storage container will be delivered on the scheduled day. And unlike the typical 28-day billing plan common in the industry, we offer a 30-day rental plan. This gives you two more days at no extra cost.
We deliver corrugated steel containers in multiple locations across the United States. Call 866.456.7600 to speak to a dedicated support person or request a quote today.
24-Foot Shipping Containers Frequently Asked Questions
How much does a 24-foot shipping container cost?
You should be able to buy a new 24-foot storage container for less than $6,000, and used 24-foot containers for less than $3,000. Note that it is common for used storage containers to have minor dents and dings (never holes) due to age, weathering, and normal wear and tear.
How much storage space does a 24-foot storage container provide?
A 24-foot storage container typically provides 1,440 feet of cubic capacity. You can store large tools, important documents, inventory, expensive machines, and medical equipment, and more in these containers.
How do you move and deliver a cargo container?
We have our own fleet of trucks and trailers to ensure that your orders don't depend on third-party schedules.