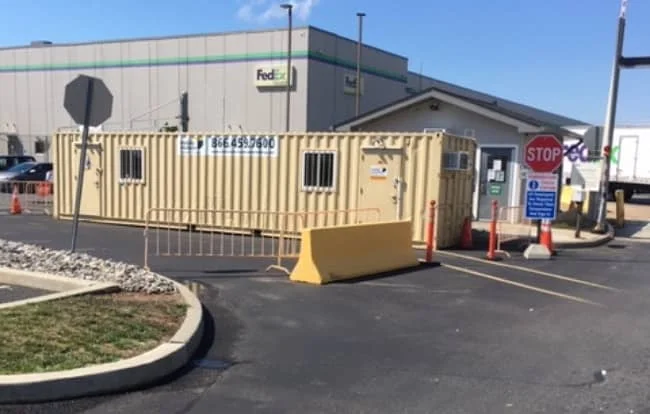 Using Mobile Testing Stations to Ensure Safety for FedEx Workers
PROJECT PROFILE
---
Project Partners: FedEx Ground
Unit(s) Used: Office Containers
Location: Various Locations Across New York City and New Jersey
Total Square Footage: (1) 320 sq. ft.
Download Case Study
Fast, Easy Solutions to Meet Critical Needs

Case Study: Keeping FedEx Employees Safe During COVID-19
Background
Since 1973 FedEx ground has provided countless companies and individuals with reliable package shipping and delivery the world over. In the midst of today's global pandemic, the company is challenged to maintain business continuity and ensure the safety of both employees and customers.
Putting Safety First
To protect the health and safety of its ground employees, and thereby limit the potential to contaminate packages, FedEx set up on-site COVID-19 testing areas at distribution centers. To accomplish this, FedEx turned to Mobile Modular Portable Storage for options.
We provided FedEx with our office units and placed them in a separate location off the main facility property to create a controlled environment. To streamline the testing process, employees entered through a door on one side and exited out the other, improving efficiency and limiting contact with other employees. Should an employee test positive, the portable office units provided a quick and easy quarantine solution.
In addition to functioning as testing stations, our customizable office units are ideal to store:
Medical supplies
COVID-19 testing kits
Personal protective equipment (PPE)
Challenge, Outcomes, and the Future
With the success of providing effective, efficient testing stations, we're working to provide all FedEx ground locations with units across New York City and New Jersey, then begin expansion into other surrounding areas as permits are obtained.
However, with many government employees working remotely, the permitting process has drastically slowed. In spite of this roadblock, FedEx continues to push for and obtain the necessary permits and move forward with the delivery of container units.
We're Ready to Work with You
Our units offer secure, cost-effective, and weatherproof solutions for a wide range of projects, uses, and applications. If you're looking for high-quality, customizable container units to help your business, let us know. Request your quote today.
EFFICIENT EMPLOYEE TESTING SPACE
Customer Name: FedEx Ground
Project Location: Various Locations Across New York City and New Jersey
Space Needs Addressed: Provide secure, safe COVID-19 testing stations for FedEx ground employees
Unique Feature: Secure, customizable COVID-19 employee testing stations