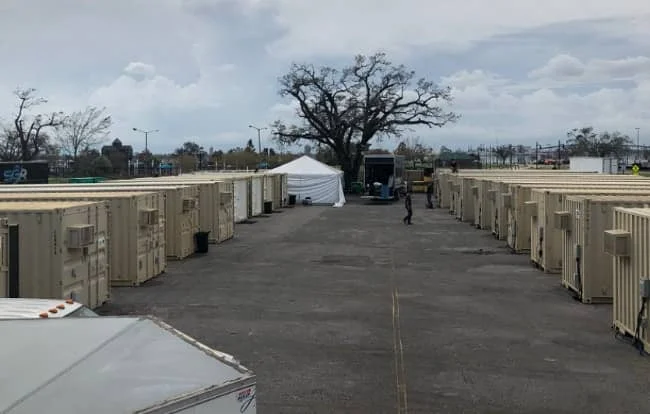 Helping Disaster Management Group Provide Housing for 300 Residents
Due to Hurricane Laura
PROJECT PROFILE
---
Project Partners: Disaster Management Group (DMG), Mobile Modular Portable Storage
Units Used: 55 AC-equipped portable office/storage units
Time: First batch of units shipped within 24 hours, all 55-units delivered within 72 hours
Location: Lake Charles, LA
Download Case Study
Hurricane Laura Case Study | Using Storage Containers for Temporary Housing
Partnering for successful disaster relief solutions
With 14 years in business and clients that include FEMA and the Department of Defense, Disaster Group Management (DMG) operates like a well-oiled machine, ready to deliver disaster response solutions within a rapid 72 hours of a signed contract. So in August 2020, when Category 4 Hurricane Laura made landfall in Lake Charles, Louisiana, Mobile Modular Portable Storage and DMG moved into overdrive to set up two 150-person base camps just days after the storm. To make this possible, "We relied heavily on partners like Mobile Modular Portable Containers," said DMG CEO, Tom Rubio.
The Solution - Office/Storage Container Accommodations
In order to provide residents with comfortable temporary accommodations, Mobile Modular Portable Storage coordinated with DMG to ship portable office/storage units that could sleep six people per unit. Each of the two base camps would be set up in a parking lot next to the Lake Charles courthouse with these criteria:
Living quarters for 300 (150 per base camp)
Food services
Laundry facilities
Restrooms and showers
All units fully operational with generator power
Understanding the urgency of the situation, we shipped the first batch of units within 24 hours of our initial contact with DMG. All units were fitted with two air conditioners, wood flooring, power outlets, two doors, and two windows. These temporary homes made it possible for residents to carry on their normal, daily work and still have a functional place to come back to.
Hurricane Laura Challenges
As with any disaster, time is of the essence. To have a fully operational base camp within the 72-hour timeframe required an all-hands-on-deck approach. Everyone, from the Mobile Modular Portable Storage branch manager to operations and logistics worked in concert to get the units delivered, fully equipped, and on time.
But it wasn't without significant challenges. The team went into scramble mode, first to find enough delivery-ready inventory, then to ensure there were enough trucks to make the deliveries from Pasadena and Dallas to Lake Charles. And one oft-overlooked consequence of relief efforts is traffic congestion from the sudden deluge of relief supplies flooding in all at once. While the trucks made it within the 72-hour window, the congestion turned the usual two-and-a-quarter-hour route into a five-hour one.
Success - Fully Functional Housing
For added insurance of timely delivery, we used multiple third-party vendors to assist in the transport of units. At base camp, DMG supplied on-site forklifts with operators, so that we could offload the units faster than with our traditional roll-offs. Both critical factors gave us the winning edge to make the 72-hour window.
Thanks to this rapid-fire teamwork and quick coordinating efforts, our successful partnership with DMG meant providing those negatively impacted by one of the worst hurricanes in U.S. history immediate, comfortable, and fully functional housing.
FULL-SERVICE BASE CAMPS
Customer Name: Disaster Management Group (DMG), Mobile Modular Portable Storage
Project Location: Lake Charles, LA
Space Needs Addressed: Provide residents with comfortable, temporary accomodations
Unique Feature: Base camps with living quarters, food, laundry, and full utilities for 300