20' Storage Containers for Rent and Sale
20' STORAGE CONTAINER
is rated out of
5
by
44
.
Have small and medium-size projects that require 20' portable shipping containers? Mobile Modular Portable Storage is the answer to your needs. Our 20' storage containers fit in a single parking space and are the perfect answer to storage needs that require more space than a 10-foot storage container. Easily customizable to your requirements, these containers can conveniently serve as site offices or guard shacks and fit industrial and commercial storage requirements.
Dimensions
Exterior dimensions:
20' 0" L x 8' 0" W x 8' 6" H
Interior dimensions:
19' 4" L x 7' 8" W x 7' 10" H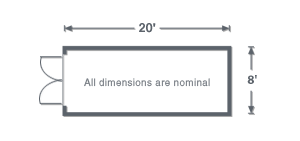 8'x20' Storage Container Features:
Lockable door handles
Increased vents to reduce condensation
Uniformly painted beige to blend with surroundings
Standard lock boxes provides additional protection
High-security lock box option available
Forklift pockets provided to facilitate movement and stacking
Wind and Watertight
Available variations like shelf rack and pipe rack
Accessories such as mini-blinds and plan tables
Why Choose Us?
End-to-end support from our sales specialists
Timely delivery, typically within one business day
Competitive prices provided after understanding job specifications
Business quote furnished within an hour of inquiry
Read more
Rated

5

out of

5
by
CNickerson
from
The customer service was excellent!
I rented the storage container and it's exactly what I was needing, the service I received from Chris Phillips was great, he explained how the account set up was handled and had the container delivered in quick time. The delivery driver was right on time, he called before he was going to deliver to give me a time that he would be there and was right on time! Ray asked where we needed the container placed and after he placed asked again if the placement was ok as he could move it. He explained how to lock the doors and suggested using the lock in the box which I hadn't even seen. The customer service so far has been excellent!
Date published: 2019-04-03
Rated

1

out of

5
by
Kimberly
from
Storage unit nice. Changing Tuff to Mobile Poor
Mobile Modular recently took over my account from Tuff Storage. I was charged my now rent from Tuff on my credit card and then received a bill from Mobile for the same month. When I called Mobile Modular I was told it was on me to call Tuff and get my money back. This is poor customer service. I didn't ask for Mobile Modular to take my account. I have never been late on my payment. I called a second time and was told this manage would look into it and call me back. As of today no call. Not a happy customer at this time. This survey could have not came at a better time..
Date published: 2019-11-08
Rated

5

out of

5
by
Murphdawg
from
Delivery Driver Was Awesome! One Day turn around!
We are a major builder in California. I am the head Superintendent of two jobsites. I am extremely impressed with how Eric was able to schedule our Bin move last minute and the driver Phil Dulaney was awesome! He was very helpful, professional and courteous and prompt. Eric and Phil are outstanding team members! Phil Dulaney should run the entire Transport team!
Date published: 2018-11-09
Rated

5

out of

5
by
Merrimack
from
Great Storage Unit and Wonderful Customer Service
Price-wise Mobile Modular was very competitive. The sales staff was responsive and easy to work with. The operations/billing staff could not have been nicer. They were so flexible when it came to determining the ending date. Compared with how some of these storage units look, we were pleased with the subdued look of this container in the neighborhood. Even the driver who delivered and picked up the unit could not have been more capable and helpful.
Date published: 2018-09-20
Rated

5

out of

5
by
Satisfied
from
Great product and Service
The 20ft container is working perfectly to store household items during our remodel. I shopped 4 different container sources and Mobile Modular had the best pricing. The initial phone contact with Jadon and the delivery process was very friendly and professional. I highly recommend this company. Some competitors (with PODS) we're over twice the monthly price for a smaller size!
Date published: 2018-11-09
Rated

5

out of

5
by
Vico Painting
from
Excellent service
Mobile modular provide excellent Service. His agent is very professional, delivery it is always on time.
Date published: 2018-11-28
Rated

5

out of

5
by
Jbird
from
Site Superintendent
I was extremely pleased with Michael Lee's performance. Michael was very responsive and accommodating.He always had a smile on the other end of the phone. I just had Kevn Thompson contact him to provide him with the same 8X20 Combo mobil office. I would definately continue to contact Michael Lee for all future work.Kind regards, Jay Rojas Superintendent
Date published: 2019-11-08
Rated

5

out of

5
by
Aikidan
from
Great Service, Products and Personnel
Professional Knowledge, backed by great products and courteous and timely response from all involved. On the Sales end, Shep helped us select both our Office Module and a Storage Container that fit our needs. Both Drivers called ahead to advise us of the delivery time and placed each container quickly and accurately where we needed them.
Date published: 2019-03-27
RENT, LEASE OR PURCHASE
With a host of used and new shipping containers, suited to different tasks, Mobile Modular Portable Storage has your business covered. With a self-owned fleet of trucks and trailers, we can meet your tight deadlines with timely delivery.
We understand that every customer has unique needs. Our sales professionals will discuss your requirements beforehand to offer you the best possible price. Additionally, unlike the usual 28-day billing cycle, our charges are based on a 30-day cycle.
If you are looking for new or used 20-foot cargo containers for sale or rent, request pricing today.
Common Applications
Commercial storage solutions
Fire training facilities
Small and mid-size industrial storage requirements
On-site requirements such as office rooms, restrooms, lunchrooms