20' Storage Containers for Rent and Sale
Have small and medium-size projects that require 20' portable shipping containers? Mobile Modular Portable Storage is the answer to your needs. Our 20' storage containers fit in a single parking space and are the perfect answer to storage needs that require more space than a 10-foot storage container. Easily customizable to your requirements, these containers can conveniently serve as site offices or guard shacks and fit industrial and commercial storage requirements.
Dimensions
Exterior dimensions:
20' 0" L x 8' 0" W x 8' 6" H
Interior dimensions:
19' 4" L x 7' 8" W x 7' 10" H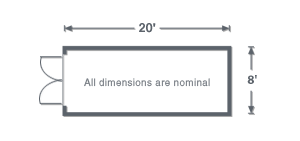 Common Usage
Excess Material and Equipment Storage
Accessories & Upgrade Options
8'x20' Storage Container Features:
Lockable door handles
Increased vents to reduce condensation
Uniformly painted beige to blend with surroundings
Standard lock boxes provides additional protection
Available high-security lock option on all units
Forklift pockets provided to facilitate movement and stacking
Wind and Watertight
Available variations like shelf rack and pipe rack
Accessories such as mini-blinds and plan tables
Optional upgrade to climate-controlled insulated containers
Read more
Reviews
RENT, LEASE OR PURCHASE
With a host of used and new shipping containers, suited to different tasks, Mobile Modular Portable Storage has your business covered. With a self-owned fleet of trucks and trailers, we can meet your tight deadlines with timely delivery.
We understand that every customer has unique needs. Our sales professionals will discuss your requirements beforehand to offer you the best possible price. Additionally, unlike the usual 28-day billing cycle, our charges are based on a 30-day cycle.
If you are looking for new or used 20-foot cargo containers for sale or rent, request pricing today.
Common Applications
Commercial storage solutions
Fire training facilities
Small and mid-size industrial storage requirements
On-site requirements such as office rooms, restrooms, lunchrooms