40' SHIPPING Container with High-Security Lock Box
40 FOOT STORAGE CONTAINER
is rated out of
5
by
28
.
Dimensions
Exterior dimensions:
40' 0" L x 8' 0" W x 8' 6" H
Interior dimensions:
39' 9" L x 7' 8" W x 7' 10" H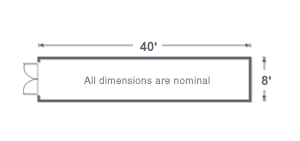 40' Shipping Container with High-Security Lock Box Features:
Lockable door handles
Increased vents to reduce condensation
Uniformly painted fleet in beige to blend with surroundings
High-security lock box provides additional protection
Forklift pockets provided to facilitate movement and stacking
Read more
Rated

2

out of

5
by
Lisa
from
great product poor records and refunds
I rented a 40 foot unit it was a great product and served all my needs. The unit was dropped off and picked up when promised my problem starts after pick up. When I called Emily in (Aulburndale) for pick it was prior to the payment and I was told that was the date they would go by. Several days the money was removed from my checking . I called many times and Emily kept telling me I would get a full refund after almost after continously being told I was due a full refund I was sent a bill for a half a month.I would like to file a complaint but im not able to figure out where your headquarters is. I would tell anyone the asks to not use your company due to poor billing pracsitis. I also had issues with money being pulled out and returned then being told I owed 3 months back rent.Like i sais the unit was great you guys just cant figure out how to bill correctly and how to give a refund when due.
Date published: 2018-09-24
Rated

2

out of

5
by
NACHO
from
LATE DELIVERY (FIRST TIME CUSTOMER NOT TOO HAPPY)
THIS WAS MY FIRST TIME USING THIS COMPANY. I USED MOBILE MODULAR BECAUSE THE SALES REP WAS EXTREMELY PERSISTENT IN GAINING MY BUSINESS. HOWEVER, WHEN I REQUESTED DELIVERY FOR AFTER 10AM, THEY SCHEDULED THE DELIVERY BETWEEN 1-3PM. THIS IS WAY TOO LATE FOR A CONSTRUCTION SITE. WORKERS GET OFF AT 2:30PM, AND WE HAD TO WAIT AROUND FOR THE DELIVERY. WHEN I ASKED FOR THE DELIVERY TIME TO BE CORRECTED, THE DISPATCH AND THE SALES REP BOTH TOLD ME THERE WAS NOTHING THEY COULD DO. SO, I AM NOT A SATISFIED FIRST TIME CUSTOMER. I WILL HAVE TO DECIDE IF I WILL GIVE MM ANOTHER OPPORTUNITY TO KEEP MY BUSINESS.
Date published: 2019-02-06
Rated

5

out of

5
by
Cindy
from
GREAT COMPANY!!
Our company rented 21 containers for what is coming to be several months. Matt Pitrucha was our driver and man were we impressed with his skills. He was always very polite, helpful and can move a rig in tight spaces around other cars, very impressive. The containers were always deliver on time and placed exactly where we asked them to be placed. He even straighten them to perfection. Danielle Motley in the office was very helpful, polite, patient and took care of us every time we called. Would highly recommend them to anyone!
Date published: 2019-04-05
Rated

5

out of

5
by
RichHawk
from
After the Tornado
After a tornado took off a third of my roof, I needed a place to store what was left of my possessions. Having the 40-footer in my driveway was much more convenient than moving everything across town to a storage facility. It was clean, secure and dry. The driver who delivered it was amazing, as the space was very tight with lots of downed trees and debris still in the way..
Date published: 2018-10-01
Rated

5

out of

5
by
drofnek
from
no surprises
The order was confirmed, date was set, unit delivered with some special instructions
Date published: 2018-09-19
Rated

5

out of

5
by
Mr Electric
from
Made it easy for us.
Will use again in the future, was easy to deal with and we received what we needed.
Date published: 2019-11-08
Rated

5

out of

5
by
EmillerHRA
from
Wonderful Customer Service in our time of need
We had an urgent need pop up to rent 2-3 storage containers and Susan Tiso was AMAZING! She bent over backwards to help our organization, the Humane Rescue Alliance, get these containers in place in a quick turnaround as we were receiving 36 pallets of donated pet food and supplies. These donations will be distributed to the community and without these storage containers we couldn't help in this way. THANK YOU SUSAN!!!!!!!!!!!
Date published: 2020-03-26
Rated

5

out of

5
by
MarJV
from
Great Customer Service
I have been working with Katherine Baysinger since 2015 and she has always been very personal, friendly, and professional whenever we needed to order containers for storage. Most of the time it was always a last minute request and we needed delivery asap, which Katherine and the team were able accommodate to meet our expectations. Superior customer service from Katherine Baysinger.
Date published: 2018-09-20
RENT, LEASE OR PURCHASE
This 320 square feet shipping container with high-security lock box is designed to handle larger projects. Our ISO-grade steel containers are reliable and can be shipped to job sites quickly.
Acquire your 40 ft. storage container with high security lock box from Mobile Modular Portable Storage, the rental contractors and other commercial professionals choose for durable and secure solutions.
Are you looking for 40 foot shipping containers for sale or rent that come with a high-security lock box? Contact us or request a quote today.