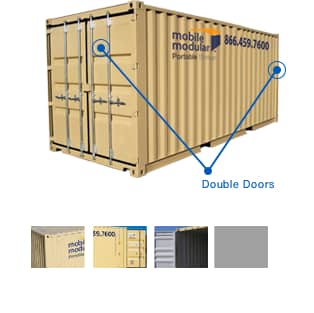 20' Storage Container with Double Doors
Dimensions
Exterior dimensions:
20' 0" L x 8' 0" W x 8' 6" H
Interior dimensions:
19' 2" L x 7' 8" W x 7' 10"H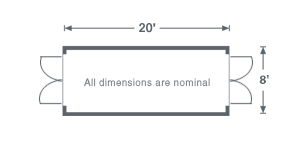 Common Usage
Allows for access to items on a regular basis. Ideal for walkway tunnels, hotel stock and seasonal décor.
Accessories & Upgrade Options
20' Storage Container with Double Doors Features:
Lockable door handles
Increased vents to reduce condensation
Uniformly painted fleet in beige to blend with surroundings
Standard lock box provides additional protection
Available high-security lock option on all units
Forklift pockets provided to facilitate movement and stacking
Manufactured from weather-resistant, industry-grade steel
Optional upgrade to climate-controlled insulated containers
Read more
Reviews
RENT, LEASE OR PURCHASE
If you've been looking for 20' storage solutions with doors at both ends, look no further. Mobile Modular Portable Storage offers strong and secure commercial storage space with great rental and sale price options and professional delivery.
Easily accessible and secure, our double door 20' mobile storage containers are ideal for larger job site projects for construction, healthcare, education, theme parks, manufacturing and many other businesses. With 192 square feet of storage space, our containers are sturdy and reliable enough to handle large-scale projects, while our industry-grade steel and high security lock box options protect your equipment and material from theft, harsh weather conditions or vandalism.
The 20' storage container can even double up as temporary office space – as we offer customization options that provide a lot of flexibility to store equipment, documents, furniture, and inventory. No matter how varied your requirement is, trust that we have the right storage container for you.
These highly secure and portable 20' storage containers can be delivered at short notice for disaster relief during natural disasters like hurricanes for emergency storage.
We determine all the specs of the job with our customers right at the beginning to arrive at the right pricing. We also bill using a 30-day billing cycle unlike the usual 28-day billing cycle, giving our customers two extra days for no additional rent.
Since we command our own fleet of trucks and trailers, you can expect delivery on your timeline when you place an order. Our containers are typically delivered in one business day.
If you are looking for new or used 20 foot storage and shipping containers for rent or sale, contact us or request a quote today! We typically respond in one business hour, so just call us right away - our dedicated sales representatives can help find the right storage solution for your project.