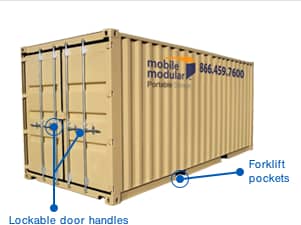 24' Storage Container with High-Security Lock Box
24-Foot Shipping Container Dimensions
Exterior dimensions:
24' 0" L x 8' 0" W x 8' 6" H
Interior dimensions:
23' 5" L x 7' 8" W x 7' 10" H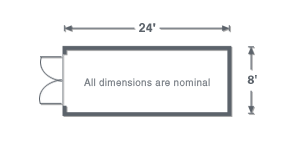 Common Usage
Ideal for storing piping in areas with limited security.
Accessories & Upgrade Options
24' Storage Container with High-Security Lock Box Features:
Lockable door handles
Increased vents to reduce condensation
Uniformly painted fleet in beige to blend with surroundings
High-security lock box provides additional protection
Forklift pockets provided to facilitate movement and stacking
Read more
Reviews
RENT, LEASE OR PURCHASE
Our 24 foot storage container with high-security lock box for rent is an ideal solution for the larger job-site projects. Ensure that materials are safe with a high-security lock box, and our mobile storage containers that are sturdy and reliable to handle bigger projects.
Looking for a new or used 24' storage container with a high-security lock box for rent or sale? Contact us or request a quote today.