40' DOUBLE DOOR SHIPPING CONTAINERS
Dimensions
Exterior dimensions:
40' 0" L x 8' 0" W x 8' 6" H
Interior dimensions:
39' 7" L x 7' 8" W x 7' 10" H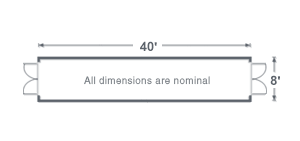 Common Usage
Allows for the quick loading and unloading of various materials. Ideal for storage of steel and iron.
Accessories & Upgrade Options
40' Storage Container with Double Door Features:
40 foot ISO storage container is made of 14-gauge corrugated steel panels with 1-1/8" thick marine plywood flooring
Lockable door handles
Resistant to wind and water with increased vents to reduce condensation
Uniformly painted fleet in beige to blend with surroundings
Standard lock box provides additional protection
Available high-security lock option on all units
Forklift pockets provided to facilitate movement and stacking
Transform shipping containers into office space with the help from an architect
Optional upgrade to climate-controlled insulated containers
Read more
Reviews
RENT, LEASE OR PURCHASE
40' cargo container (also known as shipping container) with a single door can pose limitations for accessing materials stored inside. To remedy this problem, we offer 40 foot shipping containers with double doors. Double door shipping containers have doors at both ends of a shipping container to provide easy access to retrieve and sort stored items throughout the container.
Easily accessible, weatherproof, and secure, our 40' mobile storage containers with double doors provide the additional space needed for larger commercial, rural, industrial, and construction projects.
Are you looking for new or used 40' shipping containers with double doors for rent or sale? Our containers are readily available with delivery on next business day by our own fleet of trucks and trailers. Contact us or request a quote today.