40 Foot Storage Container with Double Doors and High-Security Lock Box
Dimensions
Exterior dimensions:
40' 0" L x 8' 0" W x 8' 6" H
Interior dimensions:
39' 9" L x 7' 8" W x 7' 10" H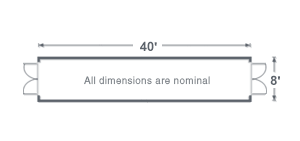 Common Usage
Allows for the quick loading and unloading of various materials in areas with limited security.
Accessories & Upgrade Options
Key features of our 40' Mobile Storage Container with Double Doors and High-Security Lock Box:
Lockable door handles
Resistant to wind and water with increased vents to reduce condensation
Uniformly painted fleet in beige to blend with surroundings
Standard lock box to provide additional protection
High-security lock box option available on all units
Forklift pockets to facilitate movement and stacking
14-gauge corrugated steel panels with 1-1/8" thick marine plywood flooring
Read more
Reviews
RENT, LEASE OR PURCHASE
Get easy access to your portable container with our 40' storage container with doors at both ends. With double doors, this large, 40-foot container lets you store and sort without having to unload the entire container. The high-security lock box safeguards expensive contents against theft and vandalism at remote job sites.
We deliver 40' shipping containers with double doors and high-security lock boxes which enable safe, portable storage. These storage containers are designed to handle commercial, industrial, rural, and construction storage. And can be used at job sites, schools, in warehousing, and other applications.
At Mobile Modular Portable Storage, we provide quick responses, one-day delivery, 30-day rental plans, and support from dedicated sales representatives. Our ISO-grade steel containers are reliable, easily accessible, and can be shipped to job sites quickly with our own fleet of trucks and trailers.
For new or used 40' containers with lock box and double doors for rent or sale,contact us or request a quote today.