40' SHIPPING Container with High-Security Lock Box
Dimensions
Exterior dimensions:
40' 0" L x 8' 0" W x 8' 6" H
Interior dimensions:
39' 9" L x 7' 8" W x 7' 10" H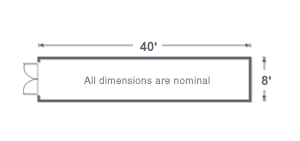 Common Usage
Ideal for storage of excess inventory, equipment, and machinery in areas with limited security.
Accessories & Upgrade Options
40' Shipping Container with High-Security Lock Box Features:
Lockable door handles
Increased vents to reduce condensation
Uniformly painted fleet in beige to blend with surroundings
High-security lock box provides additional protection
Forklift pockets provided to facilitate movement and stacking
Read more
Reviews
RENT, LEASE OR PURCHASE
This 320 square feet shipping container with high-security lock box is designed to handle larger projects. Our ISO-grade steel containers are reliable and can be shipped to job sites quickly.
Acquire your 40 ft. storage container with high security lock box from Mobile Modular Portable Storage, the rental contractors and other commercial professionals choose for durable and secure solutions.
Are you looking for 40 foot shipping containers for sale or rent that come with a high-security lock box? Contact us or request a quote today.