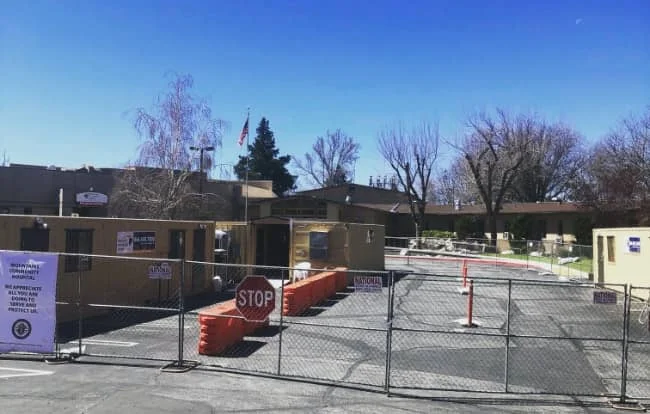 Portable Units Used to Accommodate ER Overflow
During COVID-19
PROJECT PROFILE
---
Project Partners: Mountains Community Hospital
Units Used: 4 office containers and 1 office/storage combo unit
Location: Lake Arrowhead, CA
Total Square Footage: (4) 320 sq.ft. & (1) 160 sq.ft.
Download Case Study
See How We're Expanding Possibilities for Patient Care
Background
Nestled in the San Bernardino Mountains, Mountains Community Hospital has served its community since 1951. Typically accommodating around 26,000 patients per year, the small, 37-bed hospital, was not left untouched when the COVID-19 outbreak took off. Suddenly dealing with an influx of patients to its Emergency Room, the hospital turned to Mobile Modular Portable Storage for immediate solutions.
Emergency Department Manager, Steve Early, contacted our experts in search of solutions that could address several needs for the hospital, including appropriate auxiliary space to care for COVID-19 patients and additional office and storage space during remodeling work.
Solutions and Challenges
After determining the best storage container solutions for the hospital, we delivered:
While delivery was successful, the units were transported from our Mira Loma yard, up the somewhat treacherous Highway 18 to the hospital. Our expert team of skilled drivers navigated the switchback-filled highway with ease in the 18-wheelers needed for transport, across a route that's difficult even for a passenger car.
Helping Where Help Is Needed
Once delivered, all five units were put into action and are still in use today to relieve pressure from the Emergency Department and provide the hospital with the critical addition of nine beds to triage patients not being treated for COVID-19 symptoms.
"…you have always made me feel like you cared about the best solution for the hospital itself."
Learn More
If you have urgent needs related to the current crisis or simply want to learn more about which Mobile Modular Portable Storage solution is right for your needs, we're here to help. Contact us to speak with one of our experts today and request your quote.